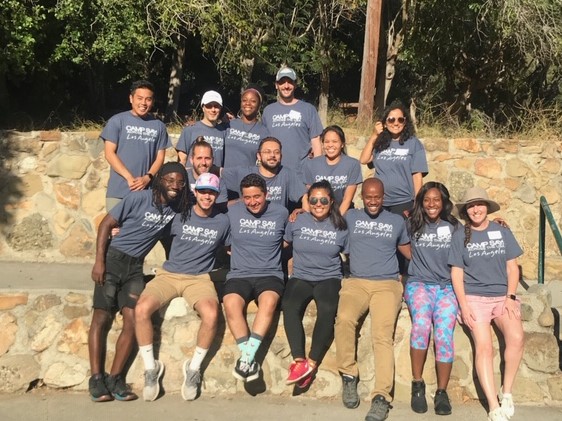 Taro Alexander, Founder of SAY & SAY: DC, created and heads all SAY programs since the organization's inception in 2001. Taro established Camp SAY in 2008, and in addition to camp, Taro has led SAY's Confident Voices program, teaching writing, dance, acting, directing, and music to children, 8-18. Taro has directed more than 1,000 original plays with music written and performed by young people who stutter. Prior to SAY, Taro worked as a professional actor, and was a cast member of STOMP. Taro enjoys spending time with his family – his talented wife Leigh, and their three children.
Loryn McGill, M.S. CCC-SLP, Chapman University is a speech-language pathologist in her private practice OC Fluency Center as well as faculty at Chapman University.  She presents and organizes one-day conferences for FRIENDS, speaks at national and international workshops on stuttering, is a NSA family chapter co-leader, and educates school districts on stuttering intervention.  When she is not chasing around her toddler, she can be found snowboarding and sailing.
Mackenzie Ogle, M.S., CF-SLP  She has her bachelor's degree in anthropology from USC—fight on! Mackenzie is an Orange County native, loves the outdoors, and is passionate about supporting the stuttering community.
Trisha Thapar, M.S., CF-SLP  She is excited to enter the field of Speech-Language Pathology and is passionate about working with the stuttering community. Trisha was born in India, raised in Singapore, and currently lives in sunny Southern California. She received her B.A. in English and Creative Writing from CSU Long Beach, and enjoys dancing, cooking, and writing in her free time.
Our team understands the unique challenges faced by children who stutter, and how these challenges can impact their lives and in some cases, block their ability to fully express themselves. Camp staff is dedicated to creating a safe and accepting environment where kids and teens can safely expand their comfort zones and discover their beautiful and unique voices.
During your child's time at camp, they really will become part of the Camp SAY family.