Is Camp SAY an accredited program?
Yes! Camp SAY is an American Camp Association (ACA)-accredited program, so you can feel confident that our camp program meets exceptional quality and safety standards.
What results can I expect with Camp SAY?
Children and teens leave Camp SAY with so many important benefits such as increased confidence, new friendships, greater independence and feeling better prepared to begin the new school year in a very positive way. That's the reason that about 80% of campers return to Camp SAY the following year.
What activities will be offered at camp?
Camp SAY offers a broad range of sports activities (basketball, soccer, tennis, volleyball, kickball, and more), arts activities (arts & crafts, singing, dance, acting/improv, creative writing, and more), outdoor/adventure activities (swimming in the pool, ziplining, hiking, ropes courses, and more!), and speech therapy with a licensed Speech-Language Pathologist who specializes in stuttering. 
Can my child receive speech therapy while at camp?
Yes. Speech therapy, both individual and group therapy, is offered at Camp SAY, at no additional cost. We believe that stuttering should be treated using a comprehensive approach and Camp SAY offers a variety of therapy programs individualized to fit each child's needs. A certified Speech-Language Pathologist – who specializes in stuttering – provides all therapy sessions. Whether or not your child participates in speech therapy during camp is completely up to you and your child. For more information regarding speech therapy services, visit the SAY: Speech page at SAY.org. 
Can my child attend camp for less than two weeks?
Yes. We understand that not all families are ready to have their child attend camp for two full weeks. We also know that summers are a busy time and children start school on different days. We can work with each family's schedule and preferences to make every camper's stay amazing. A shortened stay option is available upon request, with tuition adjusted accordingly.
What is the tuition for camp?
Camp SAY's base tuition is $3,800. We offer tuition on a sliding scale basis (learn more about sliding scale tuition and travel) so Camp SAY is accessible to ALL families.
Tuition includes all meals and activities for your child during their stay. Transportation to Camp SAY is not included in the cost of tuition, however, we do provide private, chartered Motor Coach transportation between New York City Airports and Newark, NJ International Airport and Camp SAY (as outlined in more detail in the next FAQ). Families can also apply for sliding scale financial assistance for travel to Camp SAY.
How will my child get to camp?
We work closely with families to make each child's trip to Camp SAY safe and as enjoyable as possible.
Campers living in the NYC Tri-state area can meet at a designated New York City location, where campers and counselors will board a private, chartered Motor Coach that takes them directly to Camp SAY (about 2 hours from NYC).
What if I live in another part of the country?
Our campers come from across the country and even abroad! For campers living outside of the New York tri-state area may be dropped off directly at Camp SAY in Barryville, NY, or a member of our Camp SAY staff will meet your child at a pre-arranged local airport and travel with them via private, chartered Motor Coach or van directly to camp (about 2 hours from NYC). A camp staff member will be at the arrival gate to welcome your child and will escort them to the departure gate for their flight home, offering full assistance with baggage claim (and check-in for return flights).
Your child will be accompanied and taken care of from the moment they step off the plane until the moment their return flight departs.
Are travel expenses covered in Camp SAY's tuition?
Travel expenses are not covered in Camp SAY's tuition (excluding local arrival day/departure day chartered Motor Coach travel between the NYC airport and Camp SAY, as outlined above). Please bear in mind that Camp SAY offers travel on a sliding scale basis, to make travel to Camp SAY affordable for all families.
Can I speak to my child over the phone while they are at camp?
Yes. However, for the same reasons outlined above, phone calls tend to disrupt the camp experience. Parents and guardians are welcome to call the Camp SAY cell phone if they have any questions or concerns while their child is at camp, and if a parent wants to speak with their child, that can certainly be arranged. Campers are not permitted to use their own cell phones during their stay at camp.
Can I send emails to my child during their stay at camp?
Yes. Enrolled families will receive information about how to send emails to their campers at a specialized email address so campers can receive emails in printed form – since campers do not have access to computers or personal email accounts while at camp.
Can I expect to receive mail from my child when he or she is at camp?
Yes. We encourage all campers to write home during their time at camp and include at least two letter-writing days during our 14-day session.
Can I email the Camp SAY Leadership Team during my child's stay at camp?
Yes, parents can communicate directly with our team by sending an email to Mail@CampSAY.org, or to one of the camp directors (added details are provided upon enrollment).
Can I send a package to my child when they are at camp?
Unfortunately, campers cannot receive packages while they are at camp. Please be sure to send your child to camp with all of the items they will need for their stay. If you need help deciding what to pack, please refer to our packing checklist that will be provided upon enrollment.
Does my child need any special items or equipment at camp?
Camp SAY provides a packing list for you to refer to when preparing your child for camp. Remember, your child will be doing a lot of walking around at camp, so supportive sneakers, or hiking boots are highly recommended.
What about sending electronics and other valuables with my child to camp?
Camp SAY cannot be responsible for electronics or valuables that are sent to camp. We allow iPods and other MP3 or CD players to be used inside the cabin, but we recommend against sending video games or other similar devices to camp. All cell phones will be kept in the Main Office and will not be available to your child during their camp stay (and will be returned on departure day). 
Why did we choose Camp Tel Yehuda over other camps?
Camp Tel Yehudah has a rich tradition of 75 years of summer camp programs, and its staff and facilities are top-notch. As a fellow non-profit organization, with a passion to do good in the world, we have been inspired by the synergy between our organizations from the first time we connected. Tel Yehudah has an exciting energy of growth and a dedication to innovation. It's the kind of environment where we can see Camp SAY growing and thriving. 
Camp Tel Yehudah is an idyllic camp facility, located on 150 beautiful wooded acres on the banks of the Delaware River in Barryville, New York – 2 hours from New York City. In addition to our excitement to welcome our Camp SAY campers to the incredible fun we'll have there, we also look forward to training our staff on-site in the week leading up to camp – creating a genuine home for our entire Camp SAY community. We can't wait for this summer at Tel Yehuda and many more to come!
What's the food like at Camp SAY?
The food at Camp SAY is delicious and balanced for nutrition! Our choice-based menu is developed by the talented culinary team at Camp Tel Yehudah, and we work closely with them to provide options for a variety of dietary needs (gluten-free, vegan, vegetarian, and others). Camp Tel Yehudah will operate as a nut-free camp for the time Camp SAY is present and Camp Tel Yehudah observes kosher guidelines as well. Dessert and fresh fruit complete each meal. During the day, campers also receive added snacks and beverages. Click here for a sample menu.
Can you accommodate my child's special diet needs?
Yes, Camp SAY can accommodate vegetarian, vegan, gluten-free, and lactose-intolerant diets. If your child requires other menu considerations, please just let us know, so we can make accommodations.
Are background checks required for camp counselors?   
Yes! All camp counselors are subject to a rigorous interview process and are required to pass a comprehensive background check prior to working at Camp SAY. Before opening day, all staff members also participate in an intensive orientation process that further reinforces Camp SAY's values and code of conduct. 
What if a child has to be sent home during camp?
If a child violates our behavior policy, they will be sent home and we ensure that this happens in a safe and timely manner. Should this situation occur, travel costs will be at the family's expense.
What happens if my child becomes ill during camp?
Camp SAY has two nurses in the 24-hour Camp Health Center. Camp SAY is hosted at Camp Tel Yehuda, which is located in close proximity to specialized health physicians. In the unlikely event of an incident, Camp SAY will maintain clear and continuous communication with the family.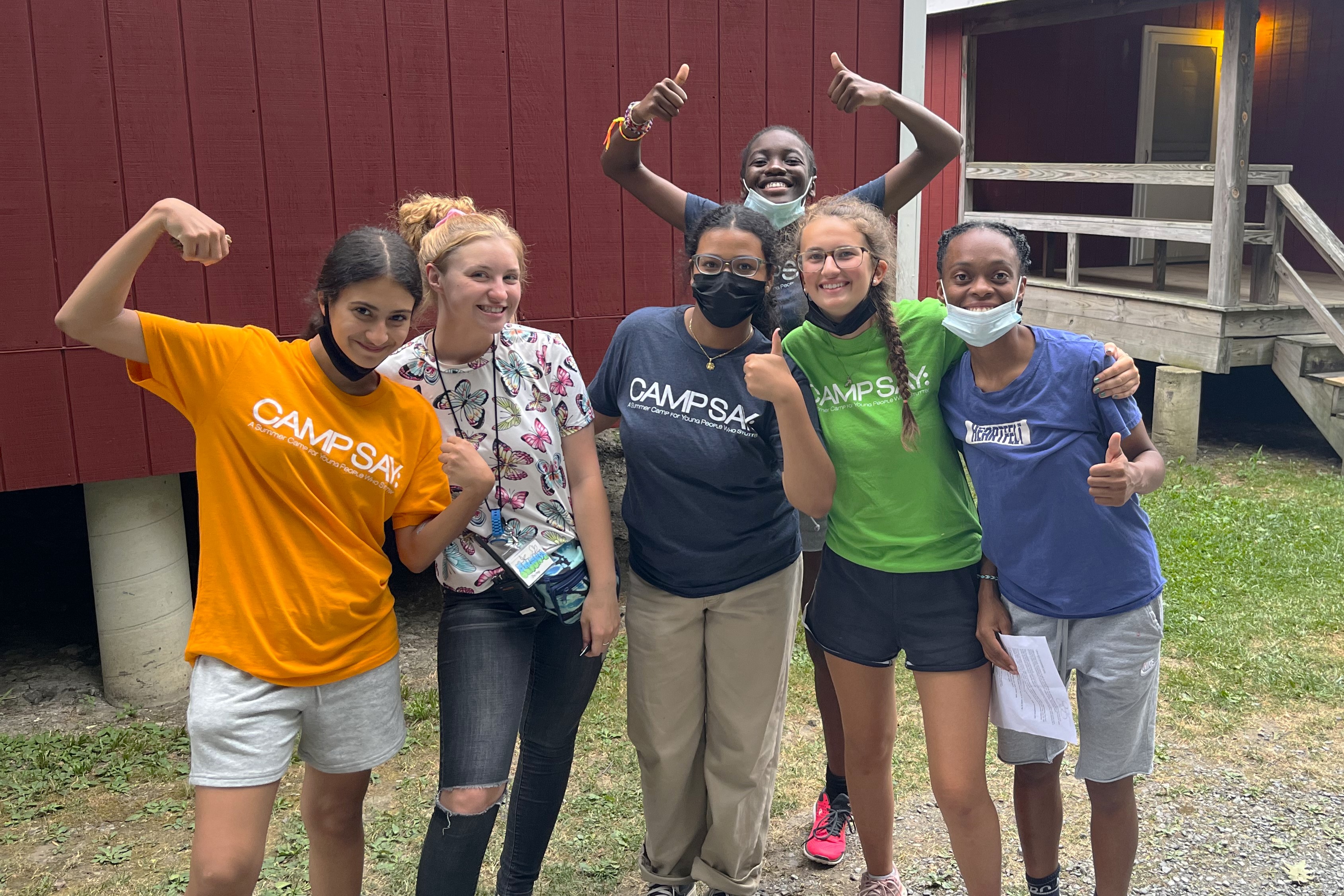 SLIDING SCALE TUITION & TRAVEL PROGRAM FAQ'S
What is Sliding Scale Tuition?
Sliding Scale Tuition is based on the principle that a family's financial commitment should be proportionate to its financial resources. The same financial information is requested from all families that wish to apply for Sliding Scale Tuition (and travel, if desired). The Family Worksheet is used to determine each family's fee for the upcoming summer at Camp SAY.
Why does Camp SAY utilize Sliding Scale Tuition?
Our entire staff and Board of Trustees are fully committed to making Camp SAY accessible to every child who stutters, regardless of a family's financial situation.
If I pay in full, am I underwriting Sliding Scale Tuition for a family-in-need?
Absolutely not. To ensure that this process is fair and equitable for every family, families that pay in full are not asked to pay more than their fair share of camp tuition costs. Instead, Camp SAY accesses a large fund to offset and underwrite all tuition reductions provided through our Sliding Scale Tuition Program. SAY raises more than $700,000 annually for this purpose, and to date, no child has been turned away due to a family's financial situation.
Does Sliding Scale Tuition affect the quality of experience offered at Camp SAY?
No, not at all. Since Camp SAY has a unique opportunity to access generous funding to offset costs for each family paying less than full tuition – camp programs and activities are structured as if each family was paying full tuition. This approach enables Camp SAY to provide a remarkably high-quality experience for all campers attending Camp SAY! At Camp SAY, we create an environment of true equality, eliminating the labels of "full-paying families" and "financial aid families."
Do I need to fill out a Sliding Scale Tuition Family Worksheet?
No, filling out the Family Worksheet is optional, and families choosing to not complete the worksheet will simply pay the camp tuition rate of $3,800.
If our family fills out the Sliding Scale Family Worksheet, how long will it take for Camp SAY to confirm the tuition rate?
The Sliding Scale Tuition rate is typically confirmed within 5-7 business days, and as the start of camp gets closer, the process can take as little as 1-2 business days! Camp SAY 2023 dates are Monday, July 31st through Monday, August 14th. 
What happens when a family wants to fill out a Family Worksheet for more than one child?
If a family fills out the Sliding Scale Worksheet for multiple children simultaneously, that factor will be taken into consideration during the initial worksheet review process and tuition rate confirmation. If a second child who stutters decides to attend camp after the first Sliding Scale Tuition is provided, we absolutely take that fact into consideration when the Sliding Scale rate is provided for another child. To date, no child has been turned away due to a family's financial situation.
What if my financial situation changes significantly and I discover that I have a financial need that I didn't have before?
If such changes occur, please just update our Vice President of SAY & Camp Director, Travis Robertson. Travis can be reached at Travis@SAY.org or 646.403.3516.
What should I do if I receive a Sliding Scale Tuition rate that is still not affordable for me to send my child to Camp SAY?
If a family receives a Sliding Scale Tuition rate that they do not feel is affordable, we welcome them to simply contact our Vice President of SAY & Camp Director, Travis Robertson, to further discuss tuition. Travis can be reached at Travis@SAY.org or 646.403.3516. To date, no child has ever been turned away due to a family's financial situation.
Ready to enroll? Camp SAY 2023 dates are Monday, July 31st through Monday, August 14th, and enrollment is now OPEN! CLICK HERE to register.
More questions? Please contact our Camp Director at Travis@say.org or 646-403-3516.